Tank station
Telemetry-EL
A closed tank system? Yes!
with automatic shutdown and
optionally with fuel gauge for
Jeti, CORE/ATOM and Spektrum.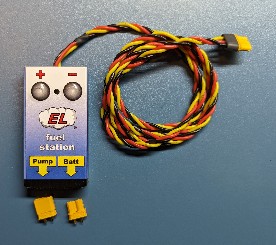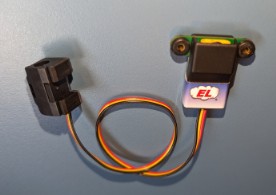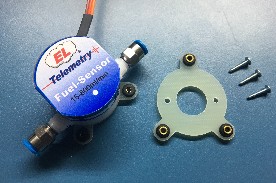 ...is the control panel of the fuel station.
The battery (2s LiPo), the pump and, if used, the FuelSwitch are connected to the fuel station.
(The required plugs are included)
Any 6V (DC) pump can be used as a pump. The maximum current is limited to 3A, the pump is switched off in the event of an overload.
Power is supplied by a 2S LiPo battery. Despite the very low quiescent current, the battery should be removed at the end of a day's flight.
Refueling and defueling is easy using the buttons (plus and minus). To refuel, press the (+) button once. The tank progress is stopped manually if the (+) button is pressed again. (Defuel accordingly). The FuelSwitch is used for the automatic shutdown...
...is simply clipped over the overflow from the tank and reports to the FuelStation that the tank is full.
The optical sensor is optimally suited for a transparent 6mm hose (Tygon or similar). The sensor is simply clipped over the hose without tools.
...is the fuel gauge for your plane. The detailed description can be found in the FuelSensors area. This is only about the special feature of the (pro) version. The Pro version of the FuelSensor is available for Jeti, ATOM/CORE and Spektrum. This version has an additional connection (AUX) on the side.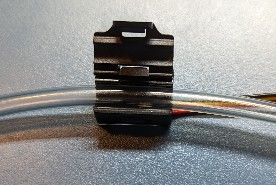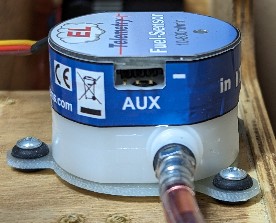 The overflow is detected within a second and the pump sopt.
Optionally, a reset signal can now also be sent to the FuelSensor (pro). For this function there is a connection for a patch cable to the sensor on the back...
A patch cable (included) is connected to the AUX connection to connect to the FuelSwitch.
Since the model is usually switched off when refueling, the sensor is supplied with the required voltage via the FuelSwitch when refueling.
If the tank is full, the sensor is automatically set to "full".